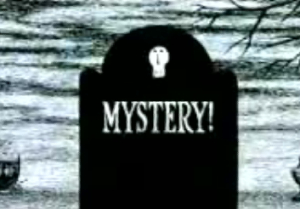 Mystery! is a PBS anthology series, which debuted in 1980. In some respects a spin-off of Masterpiece Theater, the concept was suggested to PBS affiliate WGBH Boston in 1979 by an executive for Mobil Oil, the longtime Masterpiece sponsor. Following the success of a series adapting Dorothy L. Sayers' Lord Peter Wimsey on Masterpiece Theater, Mystery! was devised as a showcase for various British detective series and occasional one-shot stories or serials, importing pre-existing product from the BBC, ITV, and others, but with WGBH as a direct investor in producing new series as well, which would be shared. Such diverse characters as Sherlock Holmes, Hercule Poirot, Inspector Morse, and Dr. Jekyll were featured over the years. The series opening featured distinctive animation, designed by Edward Gorey and animated by Derek Lamb, depicting stock Victorian detective story figures.
Like Masterpiece Theater, the series had a host, to introduce the segments and provide historical background and context on authors and characters. Initially, Gene Shalit filled the slot, but by 1981, he was replaced by Vincent Price. Price's long association with mystery and horror allowed for atmospheric tongue-in-cheek intros; he stepped down for health reasons in 1989, and was replaced by Diana Rigg (whose own association with the genre was highlighted by The Avengers). In more recent years, the series has undergone a variety of format changes and now rotates with Masterpiece Theater.
References
Connections
In addition to the three hosts, many cast members of the various series/mini-series showcased on Mystery! have also performed in Creature Shop productions. The dates reflect their tenure on the Mystery! series, and not necessarily the original production. See also Agatha Christie and Sherlock Holmes for more connections.
Community content is available under
CC-BY-SA
unless otherwise noted.