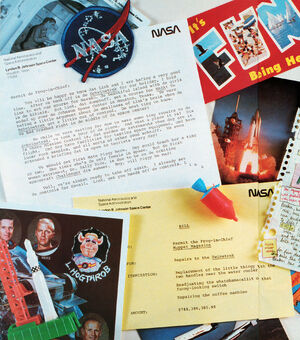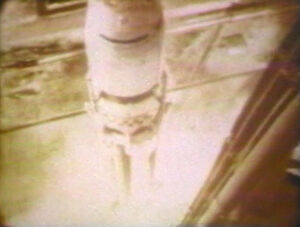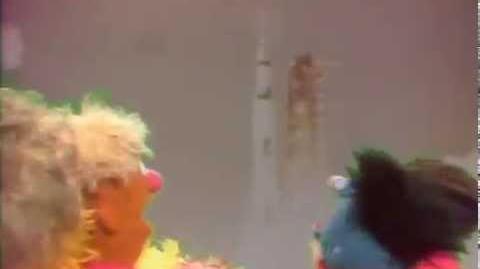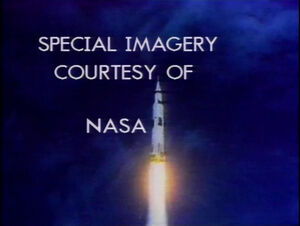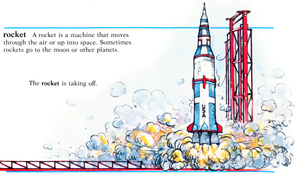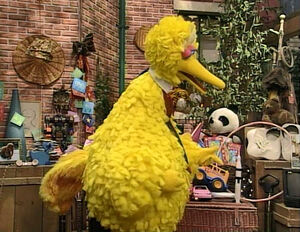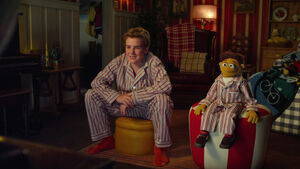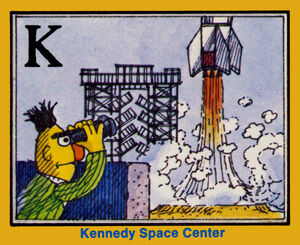 The National Aeronautics and Space Administration (NASA) is an agency of the United States government, responsible for the nation's public space program. Established on July 29, 1958, by the National Aeronautics and Space Act. NASA often works with space agencies from foreign countries such as Japan and Russia for a number of missions.
In addition to the space program, it is also responsible for long-term civilian and military aerospace research. Since February 2006 NASA's self-described mission statement is to "pioneer the future in space exploration, scientific discovery, and aeronautics research."
Events
Appearances
Footage from the Saturn-Apollo 5 mission — the first launch of the Block II Saturn I rocket — on January 29, 1964 was featured in Jim Henson's documentary Youth 68 during a sequence about technology and innovation. The launch was heralded by President Kennedy for placing America's lift capability ahead of its competitors for the first time since the launch of Sputnik.
Two "Wish You Were Here" segments from Sesame Street Season 29 feature Gabi and Miles touring Space Camp and the Kennedy Space Center. Along with a group of other kids, they learn about how rockets are launched into space. Miles works at Mission Control, while Gabi pretends to be an astronaut.
Extensive NASA footage is used in the 1996 direct-to-video release Things That Fly, including highlights from various Mercury, Gemini, Apollo, and Space Shuttle missions. Some astronauts include John Glenn and Jim Lovell in zero gravity as well as several Mission Control specialists.
On Earth Day in 2014, NASA asked everyone on the planet to participate in a Global Selfie.[5] Sesame Workshop submitted a photo of Elmo taken on the stoop of 123 Sesame Street. NASA composited all the #GlobalSelfie images posted to social media and used Elmo in the final product. Of the two images created, Elmo can be seen in the Earth on the right, on the upper-left hand side, just Northeast of the Mediterranean Sea.[6]
References
Jim Henson featured still imagery of various NASA vehicles, including artwork of a docked Lunar and Command Module, in his 1967 short film Ripples.
Slimey attempts a rocket launch in Episode 1602 of Sesame Street in a miniature version of the Columbia Space Shuttle.
Dr. Julius Strangepork writes Kermit a letter in the Summer 1983 issue of Muppet Magazine from the Johnson Space Center. He and Captain Link Hogthrob had intended to go to the island of Nassau for "de girls in de bikinis", but Link set a course instead for NASA. While they wait for The Swinetrek to be repaired, they take a tour and learn that Sally Ride will soon embark on her first mission to space. The letter arrives with bits of memorabilia including photos of the Space Shuttle, a NASA "meatball" patch, an Apollo Service Module toy, a Saturn V toy, pictures of astronauts Joseph Kerwin, Paul Weitz, and Jerry Carr (with an illustration of Link torn and pasted in), and a bill for $748,386,385.98 to repair the Swinetrek's coffee machine and water cooler.
When an Anything Muppet takes his technologically enhanced letter T to get fixed at Telly and Rosita's Fix-It Shop in Sesame Street Episode 3801, Telly suggests he bring it to NASA.
Big Bird and a child were inserted into footage of Alan Shepard and Ed Mitchell planting the American flag on the moon during the Apollo 14 mission for a PBS Interstitial in the 2000s.
In Farscape, John Crichton is a an astronaut for IASA, a fictional organization modeled after NASA. Crichton's father Jack is a retired NASA astronaut.
The "Astronauta" entry in the 2008 Plaza Sésamo book series Los oficios de Elmo features a Space Shuttle on the cover with photos of NASA's Vehicle Assembly Building and Rocket Garden at Cape Kennedy in the interior.
During a September 20, 2011 appearance on Good Morning America, Cookie Monster was watching the skies, looking out for satellites. This was a reference to the Upper Atmosphere Research Satellite making news for its expected re-entry in the following days and NASA's warning of a small potential risk of impact (the debris field was later identified in the Pacific Ocean).
In The Muppets, Walter and Gary have a model of the Saturn V rocket, the only vehicle that has ever carried humans beyond low Earth orbit.
Murray Monster visits Rocket Garden at the New York Hall of Science in Sesame Street Episode 4257 where he admires a Mercury Atlas rocket and a Gemini Titan rocket.
Bunsen and Beaker were asked on Twitter in January 2016 if they'd ever wanted to work for NASA. Bunsen replied, "Yes, but unfortunately NASA doesn't feel the same way about us." [7]
Mentions
A rubber chicken named Camilla Corona is the mascot of NASA's Solar Dynamics Observatory. "Camilla", named after Camilla the Chicken from The Muppet Show, and "Corona" for the sun's plasma atmosphere.[1] Elmo had his picture taken with Camilla during his visit to NASA in July 2011.
NASA's Goddard Remotely Operated Vehicle for Exploration and Research (GROVER) is a solar-powered robot built for research on Greenland's ice sheet. GROVER's mascot is a small plush doll of Sesame Street's Grover, photos of which made the social media rounds in May of 2013.[2] Speaking with Wired, a Sesame Workshop representative responded to the story by emphasizing Grover's role in Sesame Street's STEM curriculum[3] (Super Grover 2.0 was in its third season by this time).
Social media
Sesame Workshop and NASA have partnered in a number of social media campaigns by way of sharing content on their various social media outlets in the interest of educational exposure.
In January 2010, Cookie Monster wrote on Sesame Street's official Twitter account, "Sometimes Moon look like giant cookie. Must look into joining space program." NASA responded a short time later from their official Twitter feed with information on how to join the space program.[4]
To celebrate the 40th anniversary of NASA's first selection of female astronauts, Sesame Street's Facebook page posted an image of Rosita wearing a space suit on January 16, 2018. The image is actually a manipulated photo of Neil Armstrong during the Gemini VIII mission in May of 1965. NASA's Johnson Space Center shared the post from their Facebook account. "Thank you to these incredible women for continuing to serve as great role models for girls and boys everywhere to dream BIG and reach for the stars! 💫" A similar dedication was posted by Sesame Street's Instagram account on the same day featuring Abby Cadabby photoshopped into a 1984 photo of Anna Lee Fisher ("First Mother in Space") from a story published in Life magazine.
For the International Day of Women and Girls in Science on February 11, 2018, Sesame Street's Twitter account posted an image of Abby Cadabby meeting Ikri Mikri from Bangladesh in the Cupola observatory module on board the International Space Station, "If girls can dream it, they can do it! Happy International Day of Women and Girls in Science! #WomeninScience"
Sources
External Links