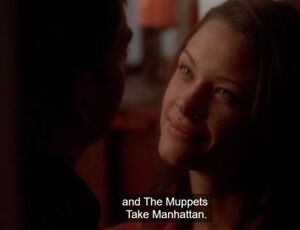 NCIS (standing for Naval Criminal Investigative Service) is a CBS police procedural, debuting 2003. The spin-offs NCIS: Los Angeles and NCIS: New Orleans later followed.
References
In The Muppets, CDE's network comparison schedule shows NICS on CBS on Tuesday (the regular NCIS time-slot) followed by NICS: California.
Muppet Mentions
In the fourth season NCIS episode "Smoked," Jeanne describes her day as "Kind of like a cross between Trains, Planes and Automobiles and The Muppets Take Manhattan." When Tony calls that a "heady brew of strange cinematic references," Jeanne clarifies that she interned in the children's ward.
In the eleventh season NCIS episode "Page Not Found," the team questions a hacker who is also a kindergarten teacher, with Tony calling her "the Wolf of Sesame Street."
On NCIS: Los Angeles, Detective Marty Deeks' expletive of choice is "Fraggle Rock," first used in the fourth season episode "Kill House" and periodically thereafter.
In the season one NCIS: New Orleans episode "The Insider," Sebastian Lund complains that Danny Malloy got to go to a crime scene. Danny responds with "Today the crime scene, tomorrow your job, Big Bird" to which Sebastian replies "First of all, I consider me more like a Beaker than a Big Bird". Shortly after, Wade tells "Beaker" to settle down as there's plenty of work for the two of them.
In the second season NCIS: New Orleans episode "Sic Temper Turanis," Sebastian says "Snuffleupagus" during a conversation with Pride.
In the second season NCIS: New Orleans episode "I Do," Big Bird is mentioned several times. Christopher LaSalle finds an image of Sonja Percy on Facebook wearing a yellow dress to which he says "Big Bird called, and he wants his feathers back". Shortly after the agents have a video conference with Sebastian, Sonja checks up on a clue and Christopher interrupts her. Sonja complains that they are stealing her thunder to which Meredith Brody says "Yeah, by all means, Big Bird, continue". Sebastian quickly says "finally others are being called Big Bird around here."
Connections
NCIS
NCIS: Los Angeles
NCIS: New Orleans
LeVar Burton directed 6 episodes
Victoria Platt played IRS Agent Michelle Silvera in the NCIS: New Orleans epsiodes "Legacy" and "Checkmate, part 2" (2018)
Community content is available under
CC-BY-SA
unless otherwise noted.