NHK (Nippon Hoso Kyokai) is Japan's leading public broadcaster operating two television networks, with programs ranging from news, sports, emergency broadcasts, anime and children's programs (some of which featured puppets influenced by the Muppet style of puppetry).
The network aired Sesame Street from 1971 until March of 2004. While Sesame Street is primarily designed for preschool children, teenagers and adults used the program as a guide to learn English (though years later, a dubbed version was also available).
NHK also aired Fraggle Rock (dubbed in Japanese) starting in 1985.
Big Bird in Japan was produced in association with the broadcaster.
Segments and Closings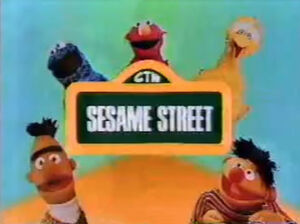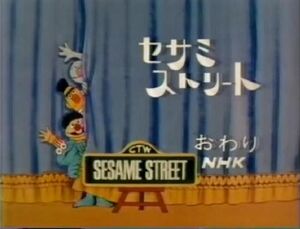 In the early 1980s, an original closing credit sequence ended each episode. The first one points out of a companion book/guide that is available, along with a mailing address and pricing options, followed by a cast list. These credits also depicted illustrations of the Muppets, some holding numbers and letters, and was accompanied by the theme (one from the Original Cast album, though it cuts off to the last few notes of the closing harmonica solo). Characters seen include: The Count, Sherlock Hemlock, Professor Hastings, Big Bird, Oscar the Grouch, Cookie Monster, Ernie, Bert, Kermit the Frog, Grover, Roosevelt Franklin, Herry Monster, The Amazing Mumford, and an Anything Muppet old woman. The entire sequence ends with a shot illustration of Cookie, Ernie, Bert and Grover poking out of a curtain with the Sesame Street sign (and its Japanese translation above) and the NHK logo. (This illustration was also used at the end of 1976-1977 episodes of "Sesamstraat" with the Sesamstraat sign and the BRT and NOS logos.)
At some point in the 1990s, each episode ended with a segment entitled "Sunny Day Club", which began with a still illustration of Elmo and Grover walking in the park, and Elmo's voiceover introducing the segment. These segments, accompanied by a female voiceover, showcased original artwork sent in by viewers, with Sesame music playing in the background, including Honk Around the Clock and The Happiest Street in the World). Also included were brief clips of sketches and episodes. The segment ends with a shot illustration of several characters (varied from time to time) with the words "The End".
In the 2000s, when the show was available in both English and Japanese, Sesame English was interspersed within the program, first as a replacement for Elmo's World, but later in addition to.
See also
External links
Community content is available under
CC-BY-SA
unless otherwise noted.