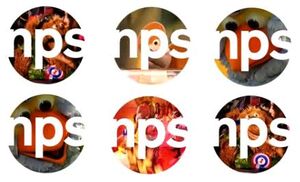 NPS is the abbreviation for Nederlandse Programma Stichting (Dutch Program Foundation), the only institution without members or magazines. They started producing in 1995. NPS was an independent, license-financed public institution. Before 1995 it was part of NOS (Nederlandse Omroep Stichting, i.e. Dutch Channel Foundation).
The channel is very (multi) cultural oriented, it informs, and broadcasts a lot of classical music, jazz and dance. Short films and other artistic works are very common.
Sesamstraat is in between a youthblock called Z@ppelin which is broadcast every Monday through Friday.
Since 2008, when the NPS got a new logo, the institution started to change its image. The logo has a moving background of images taken from the program they are about to broadcast. The NPS also wanted to work more in co-operation with existing festivals and cultural feasts. Also, their new goal changed in a clear view on the different aspects of Dutch society.
On September 1, 2010, the NPS merged with Teleac and RVU to NTR.
Community content is available under
CC-BY-SA
unless otherwise noted.