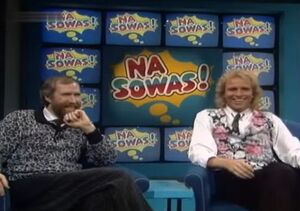 Na sowas! was a German talk show running from 1982 until 1987 on ZDF and hosted by Thomas Gottschalk.
On the broadcast of November 19, 1986, the featured guest was Jim Henson, to promote the German theatrical release of Labyrinth. Gottschalk performed a skit at "Thommy's Kochstudio" with the Swedish Chef (puppeteered by Henson and voiced by Eberhard Storeck from Die Muppet Show). It included the Chef (or Danische Koch, rather) singing his "Smørrebrød, Smørrebrød" song (established instead of mock Swedish for his theme on Die Muppet Show). The bit ends with both Chef and Gottschalk throwing their spoons into the air.
Afterwards, Gottschalk chatted on the kitchen set with Storeck about his dubbing work. The host then had a long conversation with Jim Henson, who talks about the Muppets and Muppet Babies, among other topics. Clips were shown from Die Reise ins Labyrinth, the German Labyrinth dub.