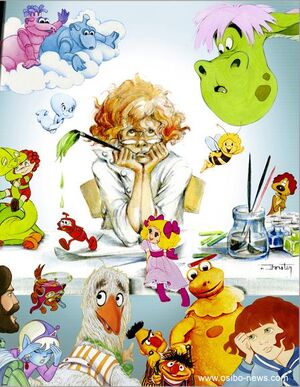 Nadine Forster (b. 1931) is a Belgian illustrator, painter, and character designer. She illustrated several books based on 1, Rue Sésame, the French co-production of Sesame Street, and some of the record albums as well.
Forster created the schoolgirl character Veronique who appeared in the children's magazine Lisette beginning in the 1960s and in a series of books (in English, the character was renamed Nicole). She illustrated books, book and record sets, and album covers based on Disney movies (including Pete's Dragon), as well as other imported cartoon franchises: Candy Candy, Heidi, Maya the Bee, The Fantastic Four, and Vicky the Viking. For television, she designed the title character of the French animated series Pierrot and characters on the puppet series Le Village dans les Nuages, as well as supplying art for the sets.
In 1979, Forster illustrated a children's story album by Grace De Monaco, called L'Oiseau Du Nord et L'Oiseau Du Soleil (The Snow Bird and the Sun Bird).
Illustration credits
Books
Records