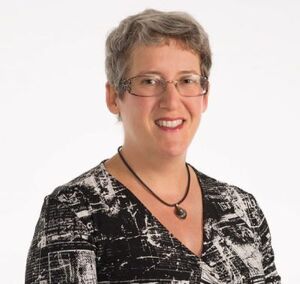 Nancy Beiman is an animator and illustrator who supplied art for the "Perils of Piggy" comic in The Muppet Show on Tour: 2nd Edition program book. She also illustrated the comic story "Punknocchio" in Muppet Magazine issue 11.
Beiman worked on TV specials and featurettes in the eighties including The Bollo Caper and Winnie the Pooh and a Day for Eeyore for Rick Reinert Productions, and on various Peanuts specials (including Snoopy: The Musical). At Warner Bros., she worked on Bugs Bunny specials and shorts and Daffy Duck's Quackbusters. Feature film credits include An American Tail: Fievel Goes West, Asterix in America, and a string of Disney features, usually as supervising animator: A Goofy Movie, Hercules (the Fates and Thebans), Fantasia 2000 (the "Rhapsody in Blue" segment), and Treasure Planet (Billy Bones).
As an illustrator, Beiman's art has been featured in books related to various Sherlock Holmes societies and pastiches. She has written books on animating and storyboarding.
External links
Community content is available under
CC-BY-SA
unless otherwise noted.