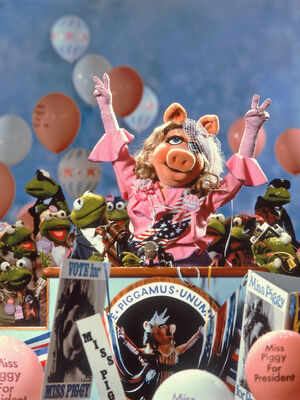 Nancy Moran is a photographer who has photographed Jim Henson and the Muppets on many occasions, starting in the 1970s: on assignment for People or other magazines, for publicity photos, or for specific Muppet projects.
Her most visible work may be the 1980 cover of Life depicting Miss Piggy as a Presidential candidate. She also shot similar images for images for The Miss Piggy Calendar 1980, feature articles for Muppet Magazine (such as the "Weird Al" Yankovic interview in issue 8), album photos for A Christmas Together, the cover for The Muppets Take Manhattan book and audio, and additional photos for The Art of the Muppets (1980) and Labyrinth: The Photo Album (1986). Many of her other "behind the scenes" Henson/Muppet photos have often been reprinted in articles, biographies, and the album Jim Henson: A Sesame Street Celebration.
In the 1970s, Moran was a photojournalist for The New York Times, particularly noted for her photographs covering conditions in Saigon, Vietnam. In addition to documenting global news events, she also was often called to photograph Hollywood events or behind the scenes still for films. In particular, she documented Apocalypse Now for Life and her work wound up in the "making of" book for The Empire Strikes Back. She photographed several Bialosky Bear children's books and calendars in the 1980s. In 1997, Moran photographed a recreation of Amelia Earhart's 1937 flight for the book Amelia Earhart, World Flight 1937, World Flight 1997.
External links
Community content is available under
CC-BY-SA
unless otherwise noted.