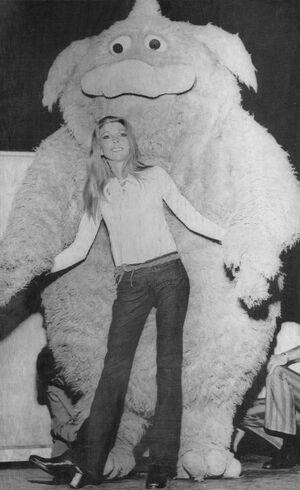 Nancy Sinatra (b. 1940) is a pop singer active from the 1960s onwards, and the daughter of Frank Sinatra. Her best-known song is "These Boots Are Made for Walkin'," covered by Jessica Simpson and Miss Piggy for two Pizza Hut commercials in 2006.
Sinatra appeared in 1966 on an episode of The Hollywood Palace that also featured the Muppets' "Music Hath Charms" sketch.
Such Muppet characters as Thog and Big Bossman, as well as the "Hugga Wugga" sketch (then titled "Buggy Mugger"), Mahna Mahna and the Snowths, appeared in Nancy Sinatra's 1971 Vegas stage show. This was subsequently filmed by NBC as Movin' with Nancy: Nice 'n' Easy in 1973, but the special was never broadcast.
External links