Nanny is the kindly woman who takes care of the nursery on Muppet Babies.
Nanny is always seen from the babies' perspective, so the audience never sees her face. The most frequent view of her are her legs, clad in green and white striped socks beneath a pink skirt, and her purple sneakers with red laces, when entering the room. However, her full body was also displayed, including her arms and her purple sweater, but always cut off at the shoulders or otherwise obscured.
Nanny has a sister known to the Babies as Aunt Fanny, who sometimes helps to take care of the Babies.
Nanny's existence is not limited to the animated Muppet Babies world. A framed embroidery of her can be seen decorating the wall of Baby Piggy, Baby Fozzie and Baby Gonzo as Wee Willie Winkie (in the guise of Baby Kermit) peers into their window in Muppet Babies' Classic Nursery Rhymes.

Muppet Babies reboot
In the 2018 reboot series Muppet Babies, Nanny is referred to as "Miss Nanny" and possesses a more youthful voice. Like in the original series, she is seen from the shoulders down, and her wardrobe is slightly updated. Instead of a button-up sweater, she wears a sweater with a hoodie. Her purple sneakers are replaced by purple ballet flats. In each episode, the pattern on her stockings are changed to reflect relevant elements in the plot.
On occasion, she takes the babies on field trips to the museum or the library on her bus, and is good friends with the likewise headlessly portrayed Mr. Manny.
Filmography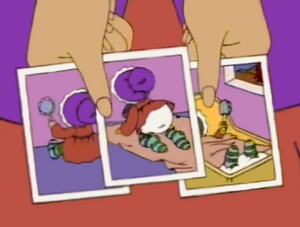 Book appearances