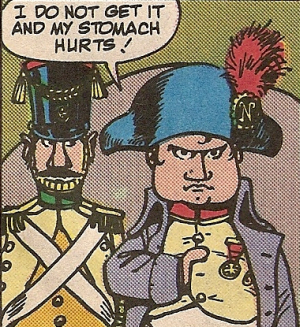 Napoleon Bonaparte (1769-1821) was Emperor of France (1804-1814), King of Italy, mediator of the Swiss Confederation, and Protector of the Confederation of the Rhine. A famed military leader, Napoleon gradually led the armies of France against nearly every European power, and acquired large portions of the continent. His venture into Russia turned the tide against him, but he staged a brief comeback before finally succumbing to defeat at Waterloo.
In popular culture, Napoleon is best remembered for his large hats, short stature, and trademark pose, with his hand inserted into his vest and over his stomach (as preserved by such painters as Jacques-Louis David).
Appearances
Napoleon was one of several historical/mythical figures to appear in "Lost in Time," the featured story in the May 1986 issue of the Muppet Babies comic book. The Emperor, depressed over the prospects in Moscow, summons Fwozzie, an ancestor of Baby Fozzie, to entertain him, with less than the desired results.
References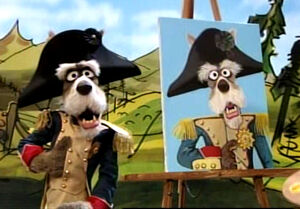 In Miss Piggy's Rules, Miss Piggy suggests the reader follow the lead of Josephine in keeping men quiet, for whenever Napoleon "started yammering on" she would say to him, "Tell them the one about Waterloo where Wellington beat you," allowing her to eat her napoleons in peace.
In Sesame Street Unpaved, it's pointed out that Bert shares his astrological sign, Leo, with Napoleon Bonaparte ("who, like Bert, had an inferiority complex").
Community content is available under
CC-BY-SA
unless otherwise noted.