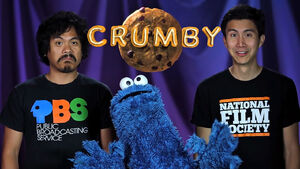 National Film Society is a YouTube channel and series, created and hosted by filmmakers Patrick Epino and Stephen Dypiangco (who left after 2015). The channel became a member of the PBS Digital Studios network upon its founding in 2012.
Cookie Monster made a guest appearance in the video "Cookie Monster Spoofs Hollywood Movies" (posted September 13, 2013), in promotion of Sesame Street's 44th season. Cookie interacts with the hosts and shows some clips from the Crumby Pictures segments, "The Biscotti Kid" and "Cookies of the Caribbean." (YouTube)
The channel's announcement video "National Film Society Joins PBS," which has the hosts going through rigorous training to join the ranks of PBS, includes two mentions to Sesame Street. The Sesame Street opening can briefly be heard in the background as the hosts watch various PBS programs. In the next scene, the hosts take an identity test, where Epino correctly identifies Mr. Snuffleupagus.