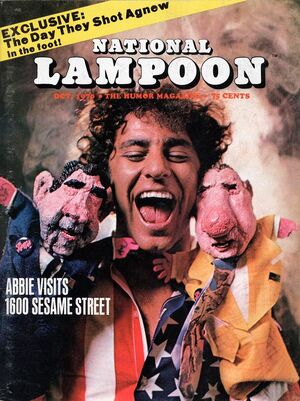 National Lampoon is a comedy magazine started in 1970, as a spin-off of the Harvard Lampoon, which was founded in 1876. The magazine focused on parody and surrealist humor, of a variety of lengths. Based around intelligent humor, it became perhaps better known for crass, bawdy jokes. Since the brand has been revived in 2002, this style has become the primary focus.
The magazine spun-off into books, recordings, radio, theatre productions, and movies like Animal House and the Vacation series. Many of the stage troupe's original actors (including John Belushi, Chevy Chase, and Gilda Radner) went on to form the original cast of Saturday Night Live.
Parodies and references
October 1971's issue features "125th Street", a story by Anne Beatts and Michel Choquette. This article parodies Sesame Street; set in a ghetto, characters include Big Rat, Cocaine Monster, Oreo the Roach, and Ramone the Silverfish.
The December 29, 1973 episode of the radio show is devoted entirely to Watergate. All major sketches are based on Richard Nixon or Spiro Agnew, including "Big Dick", a Sesame Street parody.[2]
The April 1981 issue featured the story, "The Decline and Fall of the Muppet Empire" written by Gerald Sussman and illustrated by Randall Enos.
Connections
Community content is available under
CC-BY-SA
unless otherwise noted.