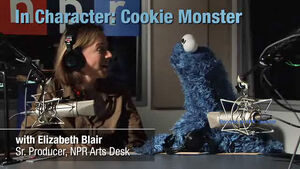 National Public Radio (NPR) is a semi-independent, privately and publicly funded non-profit membership media organization that serves as a national syndicator to public radio stations in the United States. Its President and CEO from 2011 to 2013 was Gary Knell, formerly of Sesame Workshop.
NPR was created in 1970, following congressional passage of the Public Broadcasting Act of 1967, signed into law by President Lyndon Johnson, which established the Corporation for Public Broadcasting and also led to the creation of the Public Broadcasting Service.
Its two flagship programs on weekdays are Morning Edition and its afternoon equivalent, All Things Considered, both of which have had Muppets as guests, as has Tell Me More.
Appearances
February 10, 2008 — Cookie Monster appeared in studio and on camera with Elizabeth Blair. [2]
Kevin Clash and Frank Oz have appeared, and the show has made a number of Muppet references.
The Sesame Street Muppets performed in 2019.
Cookie Monster appeared in a 2019 video.
In addition to the Tiny Desk Concerts appearance, a web video was filmed featuring the Sesame Street Muppets as NPR interns, released on August 15, 2019. The Muppets are spread out to different departments; Bob Boilen brings Elmo over to the Tiny Desk, Big Bird ambles his way through the NPR studio, Ernie and Bert have a miscommunication about the next program, and Cookie Monster is sent to NPR Investigations. (YouTube)
References