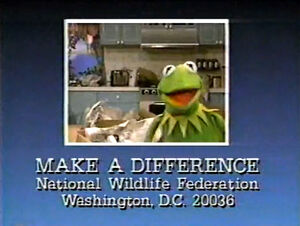 National Wildlife Federation is a conservation organization that aims to inspire Americans to protect wildlife for future generations. Their print publications include the magazine Ranger Rick.
Beginning in the early 1980s, the Muppets made several Public Service Announcements for the group, and continued on into the 1990s. During the week of March 18th, 1984, Kermit the Frog served as honorary chairman of National Wildlife Week and gave a speech at NWF's annual meeting in Atlanta, Georgia entitled, "A Frog's View."[1]
Jim Henson received a Connie Award from the organization for "Outstanding Contributions to Wise Use and Management of the Nation's National Resources" in 1990. In 1992, "You Can Make a Difference" received an honorable mention at the Columbus International Film and Video Festival in the TV Short Form category.[1]
Picture
Year
Description

1983
Kermit and John Denver talk about predators in trouble from poaching and shrinking habitats.

1983
Kermit and Fozzie are fishing in a river when Fozzie catches a tin can. Kermit explains that littering is something that most people just don't think about.

This spot was filmed on November 8, 1983 in Central Park.[1]

1984
While hiking, Kermit tells Robin that forests are more than just great places to go hiking in. They're homes to a wide variety of animals, and they help keep our air and water clean.

1985
Rowlf the Dog is sitting at his piano on a farm singing a song about soil in a PSA with Eddie Albert.[1]

1987
Reporter Kermit presents some experts on clean air: Mount Rushmore. The Presidents stress that it's even tough to see air pollution from up where they are. Echoing their first appearance in Sex and Violence, George Washington doesn't get it.

1988
Kermit and a group of forest critters argue that "forests are more than trees."

1988
Kermit and some tourist penguins exclaim: "forests are more than trees."

1989
Miss Piggy runs through a checklist of things to do to save energy with some penguins, rats and Bessie the cow. Kermit asks, "What can we do to help the environment?" Piggy turns off the lights... and uses the cover of darkness to smooch her frog.

1989
Fozzie has a package with his new ball. Kermit reminds him that when he buys things overpackaged, it creates more garbage and can ruin the environment. He tells Fozzie to try and choose products that aren't overpackaged, and recycle whenever you can. Fozzie attempts to recycle a banana peel and ends up slipping.

1989
Kermit points out to Miss Piggy that some household products (like the air freshener she's spraying around) can cause pollution. She sees what he means when the flowers droop.

1989
Fozzie shows Kermit his different recycling categories, which are "BOTTLES", "CANS", "PAPER" and "SNOO". Kermit asks, what's snoo? Fozzie responds with "Nothing, what's "snoo" with you?"

1991
Bill, Gil and Jill struggle to come up with a slogan for Earth Day. After they make a mess of the office, Robin makes a suggestion: "Let's make it Earth Day every day!"
Three different versions of this spot exist: one minute long version, a 30 seconded edited version and a 10 second version.

1991
Robin and Clifford explain to some rat-viewers why it's important to keep the environment clean, even if they live in the city.

1992
Robin and the Frog Scouts appear in "You Can Make a Difference."[1]
See also
Sources