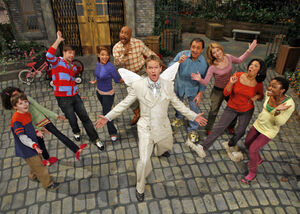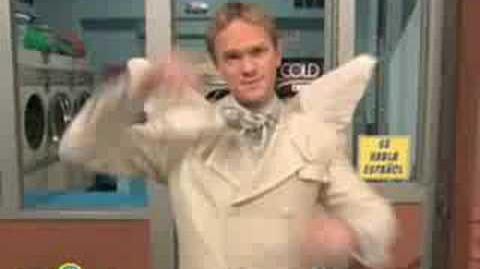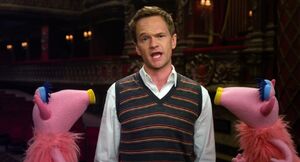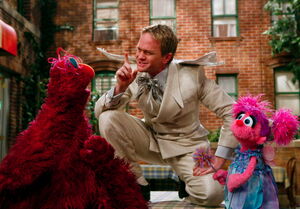 Neil Patrick Harris (b. 1973) is an actor who first gained note for playing the title role in Doogie Howser, M.D. (1989-1993) and more recently has appeared on Broadway and on the sitcom How I Met Your Mother, as the womanizing Barney. He guest starred as "Fairy Shoeperson" in a 2008 episode of Sesame Street and appeared in two "Backstage with Elmo" segments for Sesamestreet.org. Harris appears in the 2011 film The Muppets, manning phones at the Muppet Telethon while complaining about the fact that he wasn't hosting.
In 1990, Harris appeared in character, as Dr. Howser, on The Earth Day Special, which also included an appearance by the Muppets. In 1993, he was one of the hosts for the Disney Channel's pediatric AIDS benefit For Our Children; Baby Sinclair was another co-host.
Outspoken Muppet fan
Prior to his first actual appearance in a Muppet project, Harris went on the record about his love of the Muppets and the work of Jim Henson in general, and has continued to do so. In 2005, in the TV Guide column "What I'm Watching,"[1] Harris expressed his admiration for Jim Henson, in answer to the question "Who's your all-time TV hero?":
"

Jim Henson. He taught me how to be funny and how to share and communicate, and he did it all with felt and cut-up Ping Pong balls. Between the Fraggles, the Muppets, and Sesame Street, he entertained and educated an entire generation. I hope to do a children's show like that someday.

"
In a 2009 issue of TV Guide, he mentioned some of his favorite shows of the past, including Fraggle Rock -- "because I can't ever do a list without including the Muppets!"[2] He tweeted on June 17, 2010 that it was "priceless" to be getting a star on The Hollywood Walk of Fame the same year the Muppets do. [1]
In 2008, Harris played a "Fairy Shoeperson" in Episode 4162 of Sesame Street. On the February 15, 2008 episode of Late Night with Conan O'Brien, he discussed his Sesame Street appearance. He and Conan O'Brien also talked about Harris' love of the Muppets and his admiration of Jim Henson, when Harris shared that the only fan letter he had written as a child was to Henson.
As host of the 61st Primetime Emmy Awards in 2009, Harris had planned to include Statler and Waldorf in the balcony for the show, but the Muppets were unavailable.[3]
In 2017, Harris appeared in a video to promote the crowdfunding campaign for the Museum of the Moving Image's Jim Henson exhibit.[4]
Sources
External links
Community content is available under
CC-BY-SA
unless otherwise noted.