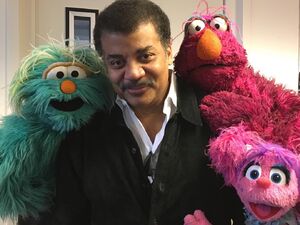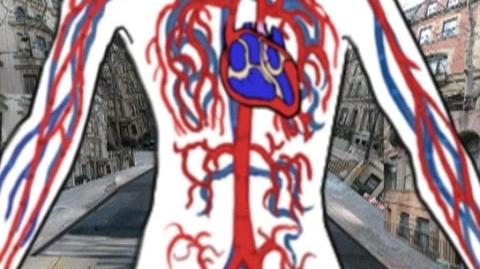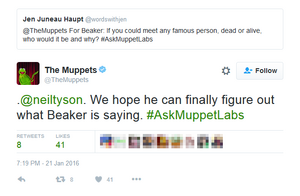 Neil deGrasse Tyson is an astrophysicist who has gained public recognition by way of many appearances in the media. In addition to hosting the PBS series NOVA scienceNOW, and his podcast StarTalk Radio, he has appeared on The Colbert Report a half dozen times, The Daily Show and Late Night with Conan O'Brien at least twice each, participated in episodes of NPR's Wait Wait... Don't Tell Me!, features in several episodes of The History Channel's The Universe and made cameo appearances in the Stargate Atlantis episode "Brain Storm" and The Big Bang Theory.
Tyson provided narration for a Sesame Street segment about the inner workings of the human heart. (First: Episode 4130)
References
During a January 2016 Twitter Q&A, Beaker was asked which famous person, dead or alive, he'd meet if he could. Dr. Bunsen Honeydew replied, "@neiltyson. We hope he can finally figure out what Beaker is saying." [1]
Mentions
As host of NOVA scienceNOW, Tyson explained in a June 2008 episode that the terms "Dark Matter" and "Dark Energy" could just as easily have been called "Bert" and "Ernie".
In the Epilogue (p.257) of his 2012 book Space Chronicles, Tyson writes, "Imagine a life-form whose brainpower is to ours as ours is to a chimpanzee's. To such a species, our highest mental achievements would be trivial. Their toddlers, instead of learning their ABCs on Sesame Street, would learn multivariable calculus on Boolean Boulevard."
External links
Community content is available under
CC-BY-SA
unless otherwise noted.