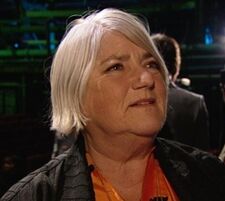 Nelly Frijda (b. 1936) is a Dutch actress and former politician who plays Stuntkip's neighbor Marie in an Angsthaas and Stuntkip sketch in Sesamstraat, the Dutch co-production of Sesame Street. Anxious as always, Angsthaas wonders if Stuntkip has the guts to give Marie a kiss for her birthday.
Frijda is best known for playing the character of Ma Flodder, the mother figure of the antisocial Flodder family. The character first appeared in the 1986 cult movie Flodder (with Dick Scheffer in a supporting role), and was last seen in the 5th season of the Flodder TV series in 1998. The series ended because Frijda's co-star Coen van Vrijberghe de Coningh suddenly passed away a year earlier.
Her other work includes playing the mayor in Joram Lürsen's film Mijn Franse tante Gazeuse (My French Aunt Gazeuse), and voicing characters in Disney movies such as The Lion King II and The Little Mermaid (alongside Hero Muller and Laura Vlasblom among others). She also played the mother of the title character in former Sesamtraat director Pieter Kramer's 2004 comedy film Ellis in Glamourland that featured Joan Collins as well.