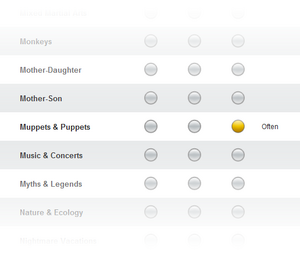 Netflix is a provider of on-demand Internet streaming media and of flat-rate DVD-by-mail. Their DVD video rental service offers many commercially available Muppet and Jim Henson home video releases to US customers, and their "watch instantly" on-demand video streaming service has offered many Muppet titles for viewing on-demand; including several episodes and titles not available on DVD or other platforms. Original content includes the Jim Henson Company produced or co-produced series The Dark Crystal: Age of Resistance, Julie's Greenroom, and The Curious Creations of Christine McConnell.
Netflix also produces original content for its streaming service, such as House of Cards, Orange is the New Black, and Unbreakable Kimmy Schmidt; plus revivals and continuations such as Fuller House, Gilmore Girls: A Year in the Life, Mystery Science Theater 3000: The Return, and additional seasons of Arrested Development and Star Wars: The Clone Wars.
References
In Muppets Most Wanted, Nadya stops Kermit from escaping The Gulag and says he should give up because she has a Netflix account with search keywords "prison escape". She's seen every prison movie ever made (even the ones in space).
US streaming titles
Currently available titles
The following titles are currently available for streaming in the United States:
Past titles
The following titles were available for streaming in the US at some point in the past:
See also
External links
Community content is available under
CC-BY-SA
unless otherwise noted.