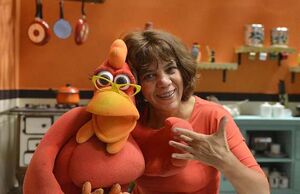 Neusa de Souza is a Brazilian puppeteer who performs Sivan on Vila Sésamo, the Brazilian co-production of Sesame Street.
She started for the role in March 2014.
Souza's non-Henson puppetry credits include Galinha ZAZÁ and Papagaio CACO. She also performed together with her fallow Vila Sesamo puppeteers in the Theater show Cocoricó.