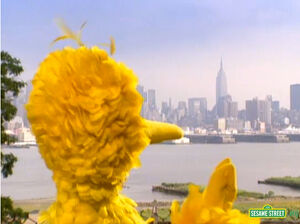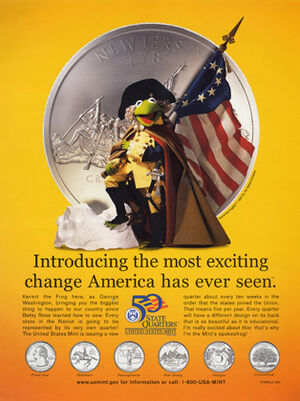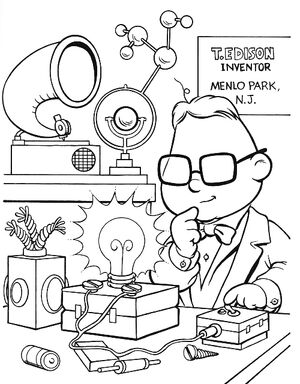 New Jersey is the 3rd state of the United States of America.
In an Ernie and Bert sketch from Sesame Street's first season, Ernie shows off his "R" collection, which includes one from a football game between Rutgers University and a Rhode Island college team.
In Episode 217 of The Muppet Show, when Kermit discovers the cow backstage, he remarks "I think they're gonna love the show in Jersey."
"Born to Add" claims "There's a lot of us adders on the Jersey Shore."
In Don't Eat the Pictures, while observing the classing painting of George Washington crossing the Delaware, Bert gives a passionate speech about his mission to reach New Jersey. Ernie asks why he simply didn't take the George Washington Bridge.
The Elephant Elevator Operator muses in his self-titled Sesame Street song that one of his potential occupations could have been a "lifeguard on the New Jersey Shore."
In Episode 3129 of Sesame Street, agent Bernie books his all-animal band for a gig in Parsippany.
Kermit notes that many of the costumes for CinderElmo were imported from New Jersey in a bonus feature interview.
In The Muppet Show Live, Miss Piggy appeared on a TV monitor, and told Kermit that she couldn't appear at Muppetfest because she was busy at "Piggyfest, a celebration of all things moi. And let me tell you, Bayonne is lovely this time of year."
Pepe the King Prawn is seemingly obsessed with the geography of the northeastern United States, in particular, New Jersey. His favorite vacation location is Camden.
In a "Monster Clubhouse" segment, the monsters receive a postcard from Minnie Golf in Tiny Town, New Jersey.
Trash Gordon once defeated a nasty inhabitant of the Planet Pizza by trapping them in a pizza box and sending them to New Jersey.
Community content is available under
CC-BY-SA
unless otherwise noted.