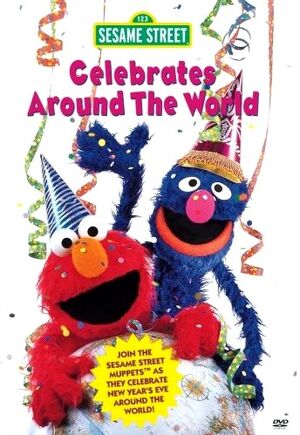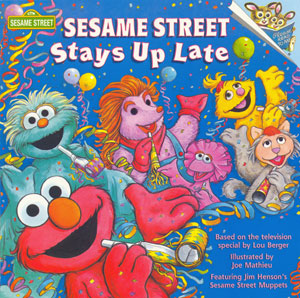 New Year's Eve occurs every December 31, and is considered the final day of the year, followed by New Year's Day on January 1. However, in America, New Year's Eve is generally deemed more important, a night of revelry, consumption, noise-making, singing "Auld Lang Syne," and watching Dick Clark (or, in recent years, Carson Daly).
Generally a lesser holiday in the Muppet pantheon, it did receive its due in 1993, with the special Sesame Street Stays Up Late and its tie-in book. (The special was released on home video as Sesame Street Celebrates Around the World.)
In 1996, Miss Piggy served as a special New Year's Eve correspondent on Jay Leno's The Tonight Show. Piggy stood on the roof of the Mariott Marquis Hotel at Times Square, New York City, freezing her bazongas off while wearing a low-cut sequined gown. ("With the wind-chill factor, it's sixty-eight degrees below zero!" she complained.) She blamed Bernie for the situation, since instead of spending a romantic candlelight dinner with Kermit, she's stuck on top of a building with three teamsters named Vinnie. She grew more satisfied as the evening wore on, however, excitedly watching as the ball prepares to drop, and dancing on the rooftop to ring in the New Year.
A year later, Miss Piggy appeared on The Today Show on New Year's Day, 1998, following a New Year's date with Matt Lauer. Piggy complained about being up so early, and said that she only agreed to appear on the show so she could break things off with him. As an explanation, Piggy said, "Can we just say that when a person picks up a pig for a date, that the New Year's kiss does not begin at 6:30pm?" Lauer accepted the breakup somewhat gracefully, although he asked her to keep an open mind about a date for next New Year's. He ended the segment by kissing her on the nose and hugging her.
Grover (and Super Grover) appear on The Sunny Side Up Show to help Kelly and Chica celebrate the coming of 2009 on New Year's Eve and New Year's Day. The trio sing a song about their New Year's resolutions to the tune of "Turkey in the Straw." Super Grover's include learning to take pictures, tieing his shoes, discovering a new breed of blue apple, hugging a penguin, and drinking hot chocolate with a dove.
Sesame Street once again celebrated New Year's Eve in 2018 in Episode 4907.
See also
External Links
Community content is available under
CC-BY-SA
unless otherwise noted.