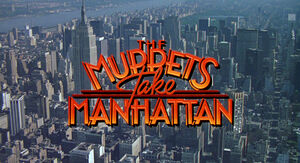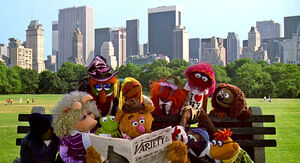 New York, New York is the original location of the Muppet Workshop, and is the location of Sesame Workshop's headquarters. Sesame Street is taped at the Kaufman Astoria Studios in Queens. New York City is also the location of the Henson Townhouse.
Sesame Street
Sesame Street takes place in a New York City neighborhood. Sesame Street is connected to the New York Subway system, and former mayor David Dinkins visited the street in 1992, to honor Gordon with the city's Good Citizen Award.
The characters have visited Central Park in Manhattan on various occasions, notably the 25th anniversary special Sesame Street Jam: A Musical Celebration. The 35th anniversary special, What's the Name of That Song? was also partly filmed on location in New York. New York City's Metropolitan Museum of Art was featured as the backdrop for the TV special Don't Eat the Pictures.
In 1983, Gordon and Mr. Snuffleupagus ran the New York City Marathon in episode 1836. Also in the 1980s, the show's opening title sequence featured footage of kids running through a unique architectural design in the form of a waterfall that runs behind the McGraw-Hill building on the Avenue of the Americas (6th Avenue). The waterfall is intercut by a walkway that connects a plaza that runs between West 48th & 49th Streets.
The Muppets Take Manhattan
New York City served as a backdrop in The Muppets Take Manhattan. Locations used in the film include Central Park, the Empire State Building, Sardi's, Bergdorf Goodman and Broadway. Then-mayor Ed Koch made a cameo appearance.
References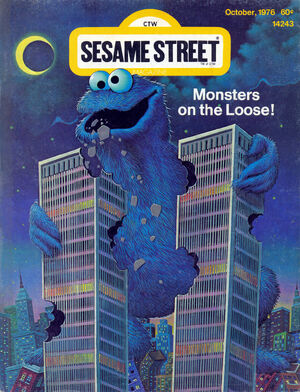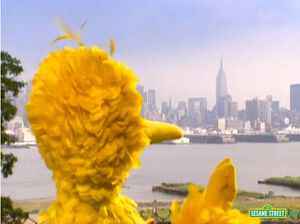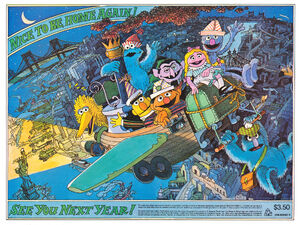 In the Sesame Street song, "I Am the World", Gloria Globe mentions her eyes are in the United States, so she can see the many sights. She sings of how great New York City is and mentions the Statue of Liberty.
An animated Sesame Street insert showcases music from different locals. New York City is the setting for a jazz tune (The segment is currently shown on international co-productions, despite an image of the Twin Towers appears).
In a "Super Grover 2.0" sketch, Grover helps a family of robins moving their piano in Brooklyn. In another sketch, Grover aids a mouse working at a restaurant in Redhook.
In a 1994 episode of Sesame Street, the Grand High Triangle Lover tells a story about his he got that position. He states the story takes place in the kingdom of Canarsie, a neighborhood in Brooklyn.
In a 2005 episode of Sesame Street, Grover and his monster mariachi band sing about Mexico, then head for a restaurant gig in Astoria, Queens.
Appearances & Events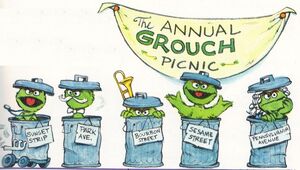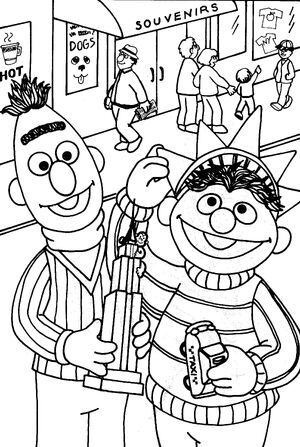 Productions in New York
Many Henson productions have been shot in New York, including Sesame Street, Bear in the Big Blue House, the "Land of Gorch" segments for Saturday Night Live, and A Muppets Christmas: Letters to Santa.
Mayors
New York City locations
Sources