New York City Family Ambassadors is a program created in 2009 to help position New York City as a safe, welcoming, family-friendly destination and to encourage families to visit. NYC Family Ambassadors have included Sesame Street in 2009, and The Muppets in 2012.
2009 Sesame Street Ambassadors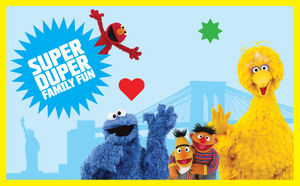 In 2009 the characters of Sesame Street were named the first NYC Family Ambassadors to help emphasize the family activities available in the city throughout the summer. Muppets, including Elmo, Big Bird and Cookie Monster, were featured on online and outdoor advertising, as well as on taxi ads throughout the city.
Visitors could visit nycgo.com/family to view numerous activities. Various locales promoted on the site include the Children's Museum of the Arts, Central Park Zoo and the Snug Harbor Cultural Center. In addition, Oscar the Grouch, Elmo, and Big Bird, among others, were interviewed and share their favorite things to do in New York City.[1]
2012 Muppet Ambassadors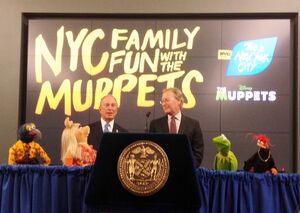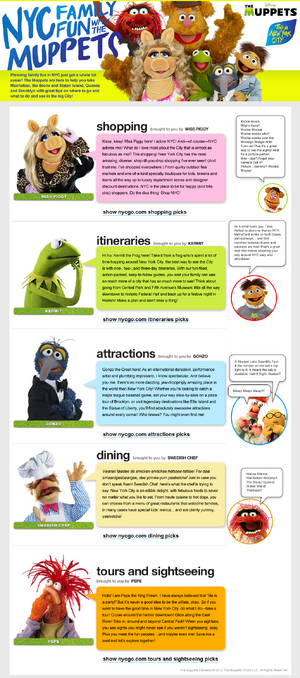 New York City Mayor Michael Bloomberg announced that the Muppets would serve as the official NYC Family Ambassadors on April 13, 2012. As part of the year-long collaboration, the Muppets will encourage family travel to the City by highlighting the best ways for families to experience and enjoy the many dining and shopping venues, cultural institutions, parks and attractions across the five boroughs. The announcement was made at The Official NYC Information Center in midtown Manhattan, where Mayor Bloomberg was joined by NYC & Company CEO George Fertitta, and the Muppets' Kermit the Frog, Miss Piggy, Gonzo the Great and Pepe the King Prawn.
The program will highlight family-friendly things to do and see for visiting families as well as locals. On www.nyc.gov, the Muppets will share their personal City preferences: Miss Piggy will discuss shopping, Kermit the Frog will help visitors navigate the five boroughs, Swedish Chef will focus on cuisine and more. Showcased locations include the Bronx Zoo, Brooklyn Bridge Park, Coney Island, East River Ferry, MoMA PS1, The Museum of the Moving Image, Rockaway Beach, Snug Harbor, The Natural History Museum and more.
Sources
External links