Not to be confused with San Diego Comic-Con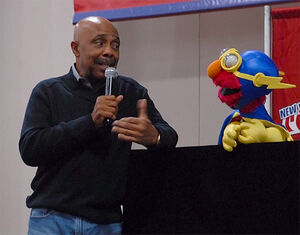 New York Comic Con is a multigenre fan convention held annually in New York City.
Appearances
2010
In 2010, Toonseum's booth hosted autograph signings on Saturday, October 9 with Caroll Spinney, Noel MacNeal, Jim Martin, Judy Sladky, and David Newell from Mister Rogers' Neighborhood. Sunday featured a talk, "Children's TV Legends: A Celebration of Childhood Memories".
2011
Archaia Studios Press booth: David Petersen, Grace Randolph, Joe LeFavi, Tim Beedle, Nichol Ashworth, Chandra Free, Jeff Stokely, and Ross Campbell.
Artist's Alley: In attendance independently were comic illustrators Katie Cook, Amy Mebberson, and James Silvani.
Mighty Fine booth: Offered free Cookie Monster crowns, and a Oscar the Grouch poser. At the booth were Evan Cheng, Eric Jacobson, and Louis Henry Mitchell.
Panel for Drew Struzan documentary Drew: The Man Behind the Poster. Caroll Spinney appeared on the panel, as well as in the film.
Joint Archaia/Jim Henson Company panel: Archaia Editor in Chief Stephen Christy, Jim Henson Company Archivist Karen Falk, and Archaia Marketing Manager Mel Caylo. Featured was some of Jim's earliest work, A Tale of Sand, and the Dark Crystal comic book.
In attendance as guests were Joey Mazzarino and Peter Linz.
2012
Archaia booth: Ramon Perez, Chandra Free, Neil Kleid, Brian and Wendy Froud.
Artist's Alley: In attendance were illustrators Katie Cook, Amy Mebberson, David Petersen, and James Silvani.
Mighty Fine booth: An Oscar t-shirt illustrated by Evan Cheng was offered.
Over 30 Years with Brian & Wendy Froud: Faeries, Goblins and Trolls
Puppetry and the Arts panel: Leslie Carrara-Rudolph, Bonnie Erickson, Noel MacNeal
Sesame Street: Gordon (Roscoe Orman), Elmo (Kevin Clash) and Darth Chicken (John Tartaglia) appeared at the Kids Day event on October 14th to promote Elmo the Musical.
2013
2014
External links
Community content is available under
CC-BY-SA
unless otherwise noted.