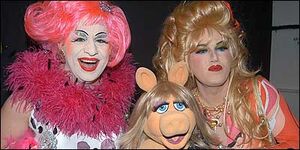 The New York Fashion Week is an event held annually in New York City to showcase many of the new designs which will be released by the major designers for the coming year.
2005 Appearances
Miss Piggy appeared at the Heatherette show on February 4, 2005. As Eric Jacobson was unable to attend the event, Kevin Clash puppeteered Miss Piggy but did not speak for her in order to preserve the character's consistency.
2010 Appearances
Miss Piggy appeared front row at the Michael Kors show
2011 Appearances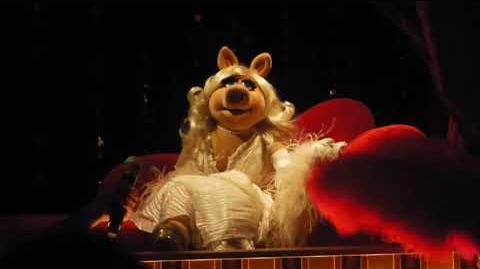 On September 8, 2011, Miss Piggy appeared for Opening Ceremony at their event at the Ace Hotel show during Fashion's Night Out, to promote The Muppets and its SpiritHoods Kids series of Muppet faux animal fur hoods.[1]
Special Muppet clothing was created for the event by Opening Ceremony (and later sold in their outlets and online), which also dressed Miss Piggy for a 2011 issue of InStyle magazine.
The theme of the event that night was based on Argentina and carnival, with many carnival games set up around the closed off street and featured plush Muppets as prizes.
2012 Appearances
At an event for the 2013 FDNY Calendar of Heroes, guests with Miss Piggy included Donna Karan and Patrick McMullan.
See also
Sources