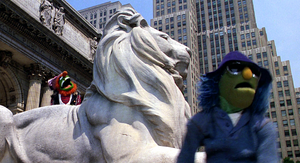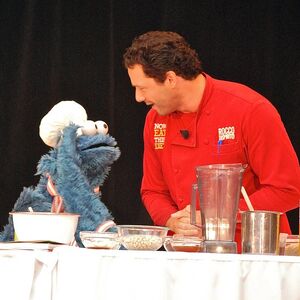 The New York Public Library is a system of libraries in New York City.
The system's main building on 5th Avenue was featured briefly when Dr. Teeth and Zoot were looking for an amnesiac Kermit in The Muppets Take Manhattan. The area also served as the preliminary location for the Nylons' version of "The Lion Sleeps Tonight" on The Jim Henson Hour, where the Thought Lion stands in for one of the statues of Patience and Fortitude.
Appearances and Exhibitions
On August 3, 2012, Cookie Monster and Rocco DiSpirito appeared at the Stephen A. Schwarzman Building for a cooking demonstration called "Tasty Treats," as part of the "KidsLIVE" Series.
The New York Public Library for the Performing Arts at Lincoln Center was home to the exhibit "Somebody Come and Play," celebrating Sesame Street's 45th anniversary. The exhibition was housed from September 2014 to January 2015, and featured monthly live events featuring members of the Sesame Workshop team.
External links