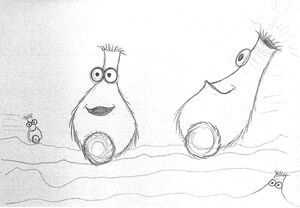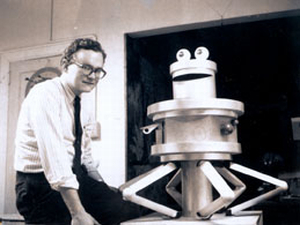 The 1964/1965 New York World's Fair was held in Flushing Meadows, New York between April 1964 and October 1965.
Jim Henson was first contacted by Liebman Productions in 1963 to develop ideas for the Chrysler Pavilion for the 1964 fair. Henson made several sketches of Muppet alien creatures and robotic characters for their "Show-Go-Round" presentation, but ultimately the gig went to Bil Baird and his team. Concept sketches for the presentation were included in Jim Henson's Designs and Doodles.
Henson was later tapped the ball-bearing company SKF to work on their pavilion in 1965. Barry Howard and his design company Imaginetics helped develop the SKF Robot Smokestack, who served as a host. The robot delivered a monologue (written by Henson and Jerry Juhl) that "introduced a history of anti-friction engineering, starting with the title line, 'I am a human being.' The robot corrects himself, acknowledging that he is a robot and was built by SKF, and explains that he was promised payment in ball bearings and ends by flipping his lid."[1]
Sources
External links
Community content is available under
CC-BY-SA
unless otherwise noted.