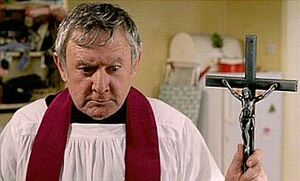 Niall Toibin (b. 1929) is an Irish character actor who played Father Geraldo in the Jim Henson Company/Creature Shop film Rat.
Toibin has been active in film and television since the 1960s. He played supporting parts in David Lean's Ryan's Daughter, Philadelphia, Here I Come, The Outside, and larger roles in Far and Away (with Nicole Kidman) and Veronica Guerin. Several of his roles have been priests or ministers, including Father MacKay in the miniseries Brideshead Revisited (with Jeremy Irons), Reverend Coot in the Clive Barker horror movie Rawhead Rex, and most notably Father MacAnally ("Father Mac") for the entire run of the TV drama Ballykissangel (1996-2001).
Toibin's other regular or recurring TV roles include Edward Daly on the soap opera Bracken (1980-1982), roguish groom Slipper on The Irish R.M. (1983-1985), and Dr. Paul O'Callghan on The Clinic (2003-2005). He played Lutz in the miniseries Wagner (with Vanessa Redgrave and John Gielgud), appeared in the Dick Francis Mysteries TV movie Twice Shy (with Ian McShane), and made guest appearances on Dempsey and Makepeace, Minder, and Casualty. On stage, Toibin starred in the short-lived Broadway musical Fearless Frank (1981) and fare as varied as Hamlet and The Sunshine Boys.
External links