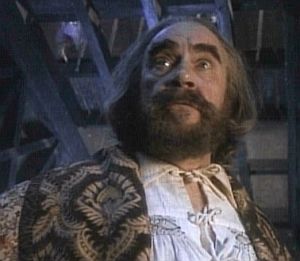 Nicholas Selby (1925-2010) was a British character actor who played the king in The StoryTeller episode "The Heartless Giant."
Selby began his career on the stage, in repertory, and later established himself as a member of the Royal Shakespeare Company from 1963 until 1976, often as authoritative noblemen and bishops. Outside of the RSC, he originated the role of Baron von Swieten in Amadeus in 1979 (reprising it on radio in 1983). Concurrent with his Royal Shakespeare work, Selby appeared in the films A Midsummer Night's Dream and the 1971 Macbeth (as Duncan). On television, in and out of period, he was often cast as bankers, judges, or other men of substance, playing scheming banker Nicholas Warleggan in the 1975 Poldark series, Lord Billsborough in the 1990 miniseries House of Cards, and Sir Walter Raleigh in the final installment of Elizabeth R (starring Glenda Jackson).
Selby played guest roles on Jeeves and Wooster (as Bertie's Uncle George), Alfred Hitchcock Presents, The Avengers, The Saint, Poirot, Remington Steele, Inspector Morse, and The Young Indiana Jones Chronicles. Later film credits included Christopher Columbus: The Discovery (as a monsignor, with Marlon Brando) and The Madness of King George (as the speaker of Parliament, with Ian Holm and Helen Mirren). In his early days in the 1950s, Selby was heard in various BBC radio plays, including a Children's Hour serial, The Hound of the Baskervilles, and Harold Pinter's A Night Out. In 1967, he played Lord Hum in the 13-part radio serial The Bridge Game.
External links
Community content is available under
CC-BY-SA
unless otherwise noted.