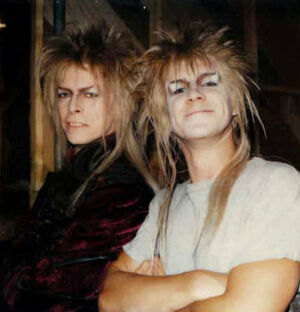 Nick Gillard (b. 1959) is a British stunt man and stunt coordinator. He is best known as the stunt coordinator and swordmaster for the Star Wars prequels.
Gillard served as a stunt double for David Bowie's character Jareth in the film Labyrinth. Gillard helped perform gravity-defying stunts on the stairways that fill Jareth's castle.
As a stunt man, Gillard held the world record for longest fire stunt, with a fire burn without air for over two minutes on Alien 3. He also had a minor role in Star Wars Episode III: Revenge of the Sith as Jedi Master Cin Drallig and was Mark Hamill's first choice as his stunt double for Return of the Jedi.
His other credits include Raiders of the Lost Ark and Indiana Jones and the Last Crusade, Aliens, GoldenEye and Tomorrow Never Dies, The Three Musketeers, Son of the Pink Panther, Robin Hood: Prince of Thieves, Doctor Who, and Sleepy Hollow.
Community content is available under
CC-BY-SA
unless otherwise noted.