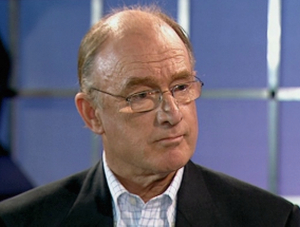 Nick Tate is an Australian actor and voice-over announcer who starred as astronaut Alan Carter on the science-fiction TV series Space: 1999 (with Martin Landau). Tate guest starred on Farscape as Earth broadcaster R. Wilson Monroe in the fourth season episode "A Constellation of Doubt."
Tate's television work includes guest spots in two different Star Trek spin-offs, as Dirgo in the The Next Generation episode "Final Mission" and Bilby in the Deep Space Nine episode "Honor Among Thieves." Other credits include guest spots on the 1960s Sherlock Holmes series, Night Court, The X-Files, Party of Five, Matlock, and JAG.
More recently, Tate appeared in the first season Lost episode "Tabula Rasa," as Australian farmer Ray Mullen, who turns Kate in, and in two episodes of Pretty Little Liars.
External links
Community content is available under
CC-BY-SA
unless otherwise noted.