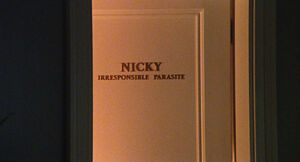 Nicky Holiday is the ne'er-do-well criminal brother of Lady Holiday and the main antagonist of The Great Muppet Caper. A profligate playboy and sponger, Nicky has a parasitical relationship with his sister (the title on his office door reads "Irresponsible Parasite"). Unbeknownst to her, Nicky is a notorious jewel thief in cahoots with his sister's models Marla, Carla, and Darla, and the mastermind behind the theft of her own jewels, prior to an attempt on the Fabulous Baseball Diamond.
However, Nicky is blindsided by an encounter with Miss Piggy, whom he soon develops a passionate affection for. His desire for Miss Piggy is outweighed by his greed, however, leading him to betray her. Called upon to explain his motivations, Nicky responds, "Why am I doing this? Because I'm a villain, it's pure and simple."
Apart from his criminal tendencies, Nicky has a penchant for flowered socks and his bow ties are always crooked. The license plate on his car reads "NKY 4."
While the part was ultimately played by Charles Grodin, Jim Henson originally considered two other actors as written in his journal, "Some very good looking dashing leading man type to be Kermit's rival - Robt Redford? Chris Reeve? he's totally in love with Piggy - she treats him like dirt."[1]
A cameo for the character was written in an early draft of The Muppets, but Charles Grodin declined to appear in the movie.
Sources