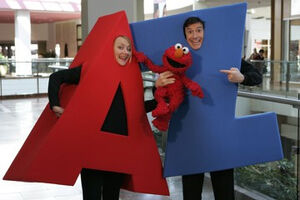 Nicole Sullivan (b. 1970) is a comic actress best known as a member of the MADtv ensemble.
She appeared alongside Miss Piggy on "Blondes Have More Fun" week on Hollywood Squares in 2003.
In 2005, she starred as the letter A in the Sesame Street video All-Star Alphabet.
Other credits include appearances on Scrubs, CSI: Crime Scene Investigation, Law & Order:Special Victims Unit, and voice work on Family Guy and Crank Yankers.
External links