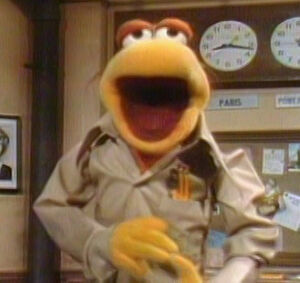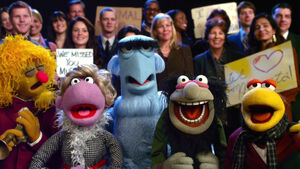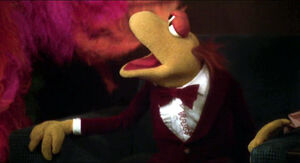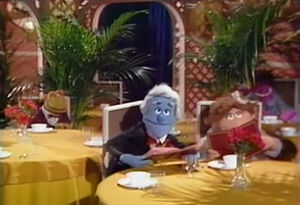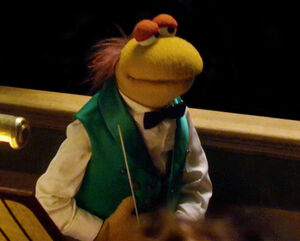 Nigel debuted in The Muppet Show: Sex and Violence pilot as the show's host. For The Muppet Show proper, Nigel had a less high profile assignment, conducting the Muppet Orchestra. Described by Christopher Finch in Jim Henson: The Works as "totally lacking in spunk and charisma,"[1] Nigel was replaced as host by the more popular and established Kermit the Frog.
Jim Henson performed Nigel in his first two speaking appearances; in the Sex and Violence pilot, and a sketch in the second episode (titled "Sax and Violence"). John Lovelady performed the character in episodes 121 and 123. After the first season, Nigel was relegated to non-speaking roles. Apart from conducting, he made other musical contributions to the show, sometimes as a chorus singer in group numbers, and providing the whistling for "Sam's Song" in episode 418.
Nigel was also seen in the screening audience in The Muppet Movie, and is briefly heard laughing during the closing credits (performed here by Dave Goelz). Nigel was rarely seen after The Muppet Show, making a few background appearances in The Muppets: A Celebration of 30 Years and A Muppet Family Christmas. After an absence of two decades, he returned for 2011's The Muppets, seen again in the orchestra pit. In the Muppets' live shows at the Hollywood Bowl and the O2, he leads a parade of overlooked Muppet characters who walk onstage.
Nigel has eyelids, which is unusual for a Muppet whose eyes are on the top of his head; a view from behind (as seen for instance in the Muppet Show end credits) reveals that they are perched on top of his eyes and are not connected to the rest of his body.
A prototype PVC of Nigel was made by Comics Spain.
Filmography
Book appearances
Sources