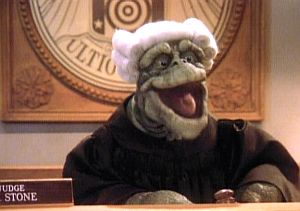 Night Court was a TV sitcom which ran on NBC for nine seasons, from 1984 until 1992. Set in a New York City night court, it focused on eccentric jokester Judge Harry T. Stone and his equally colorful staff (and the often bizarre events in and around the courtroom).
References
Muppet Mentions
In the first season episode "Quadrangle of Love," Bull states that he prefers other singers over Harry's favorite, Mel Tormé, listing Pavarotti and "that yellow bird from Sesame Street."
In the third season episode "Dan's Boss," Dan refers derisively to the diminutive new district attorney with "You ever discuss jurisprudence with a Muppet?"
In the sixth season episode "Educating Rhoda," Dan finds out his date is a woman who tends to mimic violent movie characters. Checking the motel TV, Dan finds Texas Chainsaw Massacre, Dressed to Kill, and gripes, "Where are the Muppets when you need them, huh?"
In the eighth season episode "Branded, Part 2," after Roz tries to encourage Dan with a childhood anecdote ending with a bully eating through a straw, he says sarcastically "Why you're not writing for Sesame Street, I'll never know."
In the ninth season premiere "A Guy Named Phantom, Part 1," Roz refers to abrasive substitute prosecutor Oscar as "Oscar the Grouch."
Connections
Community content is available under
CC-BY-SA
unless otherwise noted.