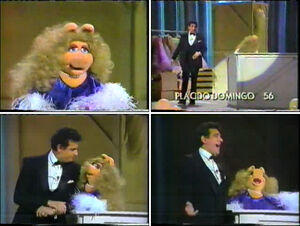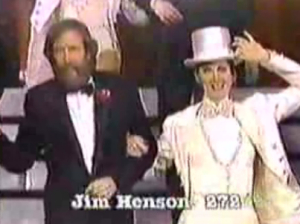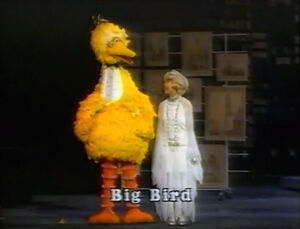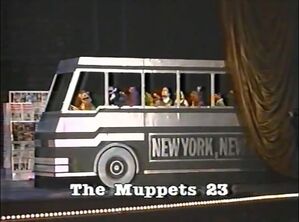 Night of 100 Stars is the title of a series of three hour-long television specials on behalf of the Actor's Fund. Despite the title, the variety show featured appearances by 200 celebrities, many simply in walk-on appearances or in a kickline with chorus girls. Since many of the appearances were fleeting, an on-screen title identified each star and numbered them, in order of appearance. The first special aired in 1982, and follow-up specials debuted in 1985 and 1990. Scrolling text throughout the program kept track of how many "stars" had appeared to date.
The 1982 special featured an appearance by Miss Piggy (#55), distraught on stage when Plácido Domingo (#56) arrives. Piggy pines for her absent frog, Kermit, as she is "no good at these minor functions without him." She begs Domingo to impersonate Kermit. The opera singer comforts her with a rendering of "Sometimes a Day Goes By," and Piggy joins in for a passionate duet. Later Piggy was photographed with actress Lillian Gish.
For the 1985 edition, Jim Henson (#272) appeared in a sequence set to "One" from A Chorus Line, on the arm of a Rockette, along with other male celebrities. In addition, the Muppets were featured in a salute to New York City.
In the lengthy New York set-piece, Big Bird (#18) sang a duet of "How About You" with Carol Channing (#17). Near the finale, an assortment of Muppets (#23) from various shows appear in a bus, crooning "New York, New York". Driven by Fozzie Bear, the mixed bus occupants included Count von Count, Grover, Telly Monster, Oscar the Grouch, Ernie, Bert, Janice, Floyd Pepper, Dr. Teeth, Scooter, Rowlf, Dr. Bunsen Honeydew, Beaker, The Swedish Chef, Gonzo, Uncle Traveling Matt, and Statler and Waldorf. Kermit the Frog pops up, as the only soloist in the group, and Barkley stands outside, punctuating the finale with a chorus of barks. Big Bird and Barkley appear at the end of the special, singing the finale with the other stars.
Other celebrities in that edition included Debbie Allen, Ed Asner, Drew Barrymore, Leonard Bernstein, Tempestt Bledsoe, Bob and Ray, Lisa Bonet, Pierce Brosnan, Carol Burnett, George Burns, Michael Caine, Cab Calloway, Dyan Cannon, Lynda Carter, Nell Carter, Dick Clark, Dabney Coleman, Billy Crystal, Tony Danza, Placido Domingo, Sandy Duncan, Charles Durning, Michael J. Fox, Soleil Moon Frye, Theodor Geisel, Whoopi Goldberg, Mark Hamill, David Hasselhoff, Florence Henderson, Doug Henning, Gregory Hines, Geoffrey Holder, Lena Horne, Jeremy Irons, James Earl Jones, Danny Kaye, Ed Koch, Patti Labelle, Linda Lavin, Hal Linden, Heather Locklear, Mary Tyler Moore, Jim Nabors, Bob Newhart, Donny Osmond, The Pointer Sisters, Vincent Price, Juliet Prowse, Keshia Knight Pulliam, Charlotte Rae, Tony Randall, Christopher Reeve, Kenny Rogers, Brooke Shields, Dinah Shore, Leslie Uggams, Dick van Dyke, Barbara Walters, Malcolm-Jamal Warner, Raquel Welch, and Joe Williams.
External Links
Community content is available under
CC-BY-SA
unless otherwise noted.