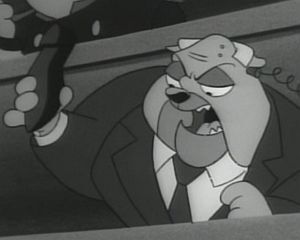 Nikita Khrushchev (1894-1971) was the premier of the Soviet Union during the height of the Cold War, while simultaneously holding the other highest post (first secretary) from 1958 through 1964. In 1960, while at the UN, Khrushchev took off his shoe and began pounding on his desk, an incident which would color most later depictions and parodies of the man.
References
In one of the "Wilkins News Report" ads, Skip Others reports on new tensions between Moscow and Peeking caused by Khrushchev losing his ticket from a Chinese laundry service.
In the second city Dog City episode "Of Mutts and Mayors," a newsreel depicts members of the "Unnoted Nations," including a Khrushchev counterpart pounding his shoe.
Community content is available under
CC-BY-SA
unless otherwise noted.