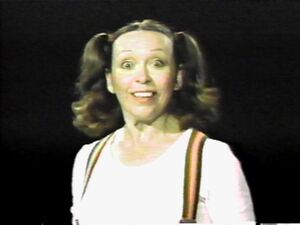 Nikki Tilroe (1941-2005) was a puppeteer who was well known for her work in the United States and Canada. She performed in such Henson productions as Fraggle Rock and The Christmas Toy. Her professional partner, Kermit Love, was also a puppeteer, as is her surviving husband, R.D. Tilroe.
Working out of Toronto during the 70s and 80s, Tilroe served as director for Frog Print Theater where she received a Citation of Excellence for her direction of Mimi and Toto in 1974-75. She performed on a number of Canadian TV shows as well, including Today's Special and The Waterville Gang.
She appeared on Shari Lewis' Charlie Horse Music Pizza and was one of three puppeteers to manipulate Snuggle Bear, a puppet designed by Love, in the fabric softener commercials. She also taught many courses on Manipulation technique through the O'Neill Puppetry Conference, and was a contributor for the book "Puppets and Television."
She worked on the web-produced puppet films for Sammy Snail and in 2004 she received a Seed Grant from the Jim Henson Foundation for a production called Aging, produced with Larry Siegel through Tricinium Limited in Keene, NH.
Tilroe passed away in September of 2005, and a new scholarship fund has been set up in her honor. Pam Arciero, Leslie Carrara-Rudolph, Heather Henson and Heather Asch were among the performers appearing at benefits for the fund.
Credits
Non-Muppet Puppeteering Credits
Funnybones: Mrs. Stuffynuff, Mississippi Educational Television Series, PBS
External links