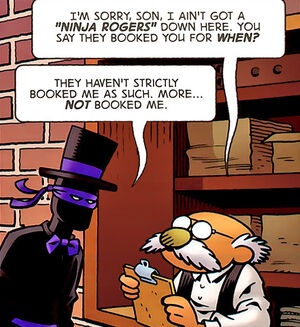 Ninja Rogers is a tap-dancing ninja who vies for a slot on The Muppet Show in the first issue of The Treasure of Peg-Leg Wilson despite the fact that the Muppets haven't strictly booked him as such.
Ninja Rogers first demonstrates his skill at stealth by sneaking into The Muppet Theatre under the Pops' nose, although the doorman's poor eyesight makes the feat less than impressive. He is then rejected by Scooter and Kermit (the former referring to him as Mister Rogers) before demonstrating his tap-dancing skill for Janice and Zoot in a bid to join the Electric Mayhem's closing number. While they agree that he's got moves, they hesitate to let him join the band. But when Animal's unusually calm demeanor and subsequently lame drumming threatens to sink the closing number, Ninja Rogers saves the day by taking the drummer out and tap-dancing up a storm on the snare drum and cymbals.
His name is a parody of Ginger Rogers.
Community content is available under
CC-BY-SA
unless otherwise noted.