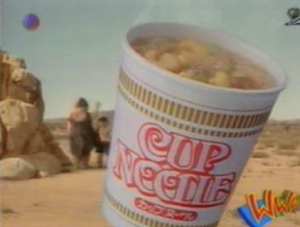 Nissin Cup Noodles is a line of instant ramen-style noodle meals produced by Nissin Foods. Beginning in 1995, Jim Henson's Creature Shop produced a series of commercials, to be broadcast in Japan. The spots starred a family of comedic animatronic cavemen, headed by Father. In each commercial, Father would attempt to rustle up mammoth, sabretooth tiger, or some other item for dinner. He would always fail, and his wiser family generally displayed a preference for Cup Noodles. The campaign received multiple Clio Awards in the Gold, Silver and Bronze classes.
Commercials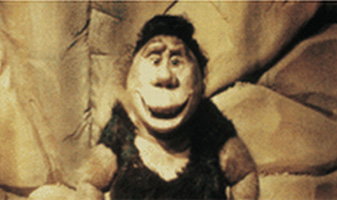 Father Saw Stars (1996, Gold Clio)
Father Saw Stars Once (1996, Gold Clio)
Father Saw Stars Again (1996, Gold Clio)
Father Tries to Throw a Rock (1996, Gold Clio)
Fishing (1997, Bronze Clio, Gold Clio for campaign)
Sneak Thief (1997, Silver Clio)
Cast
Credits
Production Company: Jim Henson's Creature Shop, Los Angeles
Creature Shop Director: David Garfath
Commercials Director: Shinya Nakajima
Art Director: Takuya Onuki
Cinematographer: Satoshi Sono
Client Supervisor: Hideki Hattori
Copywriters: Masahiko Ishii, Tomomi Maeda, Kouji Ando
Creative Director: Susumu Miyazaki
Editing Company: Omunibus Japan, Tokyo
Editor: Jin Sato
Producers: Seiichiro Horii, Kazuyuki Machida
Designer: Kazuhiro Suda
Community content is available under
CC-BY-SA
unless otherwise noted.