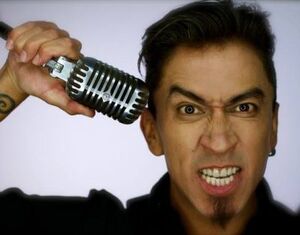 Noé Velázquez (b. 1976), sometimes known as Noé Velázquez Pedroza, is a Mexican voice actor who dubbed Pepe the King Prawn in Los Muppets, Muppets 2: Los más buscados, and the dub of the 2015 TV series The Muppets.
Velázquez has often dubbed high-pitched or youthful cartoon characters, such as Bloo on Foster's Home for Imaginary Friends, David Kawena in Lilo and Stitch, and Jim Hawkins in Treasure Planet, while using a deeper register as Iron Man in various Marvel animated series and video games. Live-action dub assignments include Jude Law in The Talented Mr. Ripley and EXistenZ, Jake Gyllenhaal in Moonlight Mile and Proof, Jorge Garcia on Lost and Once Upon a Time, Jason Segel in Sex Tape, Chris O'Donnell on Grey's Anatomy, Chris Marquette in Race to Witch Mountain, Tyler James Williams in Dear White People, and James McAvoy in Penelope. He is the announcer voice for the Disney Channel in Latin America.
Video games include Call of Duty: Advanced Warfare (Jack Mitchell), Injustice 2 (Flash), Assassin's Creed: Unity, Battlefield 1, and Tom Clancy's Ghost Recon: Wildlands.
External links