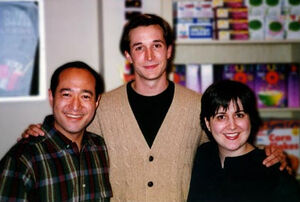 Noah Wyle (b. 1971) is a TV and film actor, who is probably best known for his role as Dr. Carter on ER. He appeared on Sesame Street in Episode 3526 (the 1996 season premiere) and 3527, playing Dr. Coleburn who treats Maria in the hospital. Later, he appeared with Big Bird in his nest in a celebrity version of "Sing". (First: Episode 3851)
Wyle spoke to Empire magazine about his favorite Muppet: "When I was on Sesame Street, I got along well with Big Bird. He plucked out two of his tail feathers. I have them pressed in a book at home."[1]
External links
Sources
↑ Empire issue 272 "Stars Reveal Their Favourite Muppets" February 2012
Community content is available under
CC-BY-SA
unless otherwise noted.