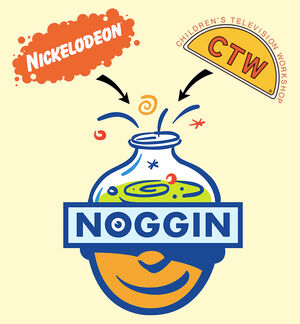 Noggin was an educational cable channel in the United States. The channel was replaced by a standalone Nick Jr. channel in 2009, but the Noggin brand was eventually revived in 2015 as a streaming app.
The channel began as a joint venture of Children's Television Workshop and Nickelodeon. Launched on February 2, 1999, it was intended to fill a gap in educational shows aimed at older children.[1] Sesame Workshop programs aired on the channel included The Electric Company, 3-2-1 Contact, Square One TV and Ghostwriter. Noggin also reran classic episodes of Sesame Street, under the title Sesame Street Unpaved, and 1993-1994 episodes under the title 123 Sesame Street (episodes from 1998 and later were added to this series in 2002). A Noggin original series titled Phred on Your Head Show often featured select Sesame skits. Noggin also co-produced seasons 1-2 of Play with Me Sesame, which premiered after the channel shifted its target demographic to preschoolers.
The Jim Henson Company held a passive 12.5% stake in Noggin until it was sold, along with Henson's rights to the Sesame Street characters, to Sesame Workshop in 2000. In 2002, Sesame Workshop sold its half to Viacom, and the Sesame Workshop shows were eventually removed from the schedule. After Sesame Workshop left, Noggin still ran their archive programmings until May 2005.
Noggin also ran a couple of Sesame Street sketches in between shows; one such sketch was "How Crayons are Made." However, the audio was removed, and was replaced by narration from Noggin host Moose A. Moose.
Around the channel's beginning, comedian Joel Hodgson (Mystery Science Theater 3000) and his brother Jim were working with the Jim Henson Company to create a children's show for Noggin. It was never produced.[2]
Sources
External links