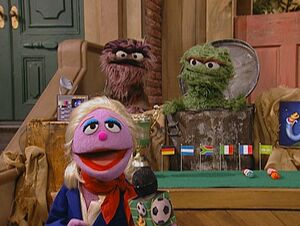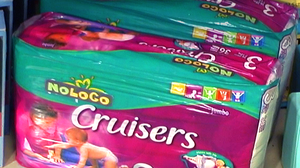 Nologo is a fictional corporation that exists in the Sesame Street universe. The generic company, similar to the Acme Corporation in the Looney Tunes universe and the Ajax Corporation in the Disney universe, is a featured brand on many products seen throughout the television series and related home video productions. Most often the Nologo brand is used on real-world products, such as televisions and stereos, to replace the original company logo with a generic and ficitional product name and thus avoid any kind of product placement or perceived endorsement by Sesame Workshop.
Examples of Nologo products included Gordon's newspaper in Elmo's Potty Time (actually a rebranded copy of the New York Daily News), Tarah's notebook computer (originally an Apple notebook), and a boombox at Hooper's Store (originally a Sony sports stereo).
A Nologo televison appears in a 2007 episode in which Big Bird, Alan and the kids watch the Worm Cup.
The generic company name is an ironic pun since the fictional company name Nologo is simply a compounding of the phrase "No logo" which describes the function of the brand as replacing and removing logos and brand names.
Community content is available under
CC-BY-SA
unless otherwise noted.