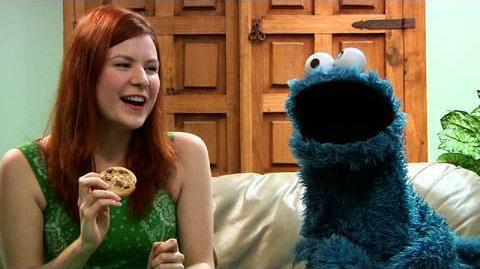 An onomatopœia, om nom nom is a sound Cookie Monster makes when he eats. The term became a meme on the Internet, often being used with lolcat images. The term, without the lolcat association, was first posted on UrbanDictionary.com in December 2004 as "om nom."
As defined by the Linguistic Society of America, nom is an "Onomatopoetic form connoting eating, esp. pleasurably. Can be used as an interjection or noun to refer to delicious food."
Many viral videos of animals eating feature the term in their titles; among the most viewed are a hamster eating and a "kitteh" (with millions of views each). Even Disney Living marketing has used the term.
As of 2011, Sesame Workshop does not seem to have standardized usage of this term, to capitalize on its popularity; paint line Sesame Street Colours includes the variety "Num Num Num". In the Sesame Street book S is for School, when Cookie Monster is told not to eat the alphabet, he replies, "Okay, okay, okay. But it very tasty. Num num!" Cookie Monster's Muppetbook profile lists his catchphrase as "Un num num num num" rather than "Om nom nom nom nom." 
As a promotion for the "Cookie's Crumby Pictures" segment introduced in Season 44, Sesame Street introduced OmNomNomify, a website that replaces all of the pictures on a website with pictures of Cookie Monster. This was updated in February 2015 as a promotion for The Cookie Thief.
2nd place in Word of the Year
At the 2011 conference of the Linguistic Society of America (LSA), the final round of the annual 2010 Word of the Year (as voted on by the American Dialect Society) debate was between "app" and "nom." In preliminary rounds, "nom" was up against several other words in the category "Most Useful."
Merchandise
The phrase has become so popular that it has been featured on Sesame Street merchandise including apparel, accessories and housewares.
See also
External links