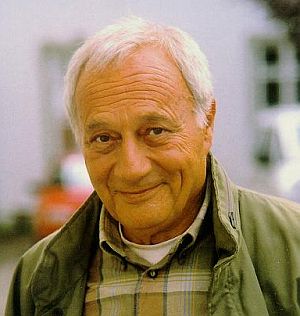 Norbert Gastell (1929-2015) was a German voice actor who voiced Sam the Eagle in most recent German dubs. He also dubbed Waylon Jennings and John Candy in Bibos abenteuerliche Flucht (Follow That Bird).
Gastell was one of Germany's more prolific voice actors, usually heard as older character actors: Gerry Parkes in The Boondock Saints and its sequel, Robert Hardy in the Harry Potter movies, Philip Baker Hall in Boogie Nights and others, Jon Polito in Hudsucker Proxy and others, Charles Durning on Rescue Me, Edward Asner in The Bachelor, David Warner in The French Lieutenant's Woman, Ned Beatty in Cookie's Fortune, Jim Carter in Black Beauty, Paco Hernández in Tesis, and Harold Gould in Freaky Friday.
In animation, Gastell was best known as the German voice of Homer on The Simpsons. In animated features, he dubbed various characters in the Asterix movies (including Vitalstatistix in The Twelve Tasks of Asterix and the pirate captain in Asterix in Britain), Rick Dicker in Pixar's The Incredibles, Tex in Cars, an orc in Bakshi's The Lord of the Rings and the B-17 pilot in Heavy Metal. Cartoon series credits included J. Jonah Jameson on Spider-Man, Ben Grimm/The Thing on The Fantastic Four, King Gregor on Disney's Adventures of the Gummi Bears, and Grandpa Marsh and others on South Park.
For German television, Gastell appeared in episodes of Tatort and the 1980 series Merlin (as Sir Lark).
Muppet dub credits
External links