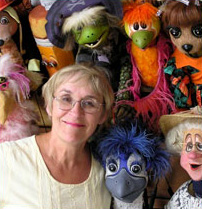 Noreen Young (b. 1952) is a Canadian puppet builder and performer best known for her work performing and building characters on the series Readalong and Under the Umbrella Tree, for which she received 1993 and 1994 Gemini Award nominations. Young replaced Rob Mills as Dodi for the later seasons of Sesame Park.
Her brother Stephen Brathwaite is also a puppeteer.
She has been a member of the Order of Canada since 1995.
External links