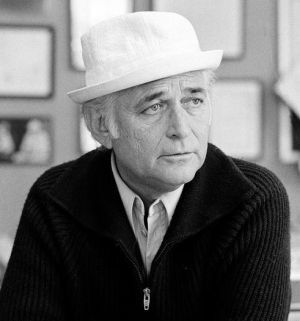 Norman Lear (b. 1922) is a television writer and producer best known for creating or developing many popular 1970s sitcoms, notably All in the Family. Lear's other series included The Jeffersons, Maude, Good Times, and Sanford and Son (developed with Bud Yorkin). He founded People for the American Way and wrote and directed the 1971 film Cold Turkey (with Dick Van Dyke and Bob Newhart).
In 1982, Lear produced the TV special I Love Liberty, which featured appearances by Big Bird and the Muppets enacting a non-musical variation of 1776.
Muppet Mentions
Many of Lear's TV shows have referenced the Muppets. See All in the Family for more.
Good Times
In the fourth season episode "A Friend in Need" (1977), J.J. says that when Michael's friends come in, "the party turns from Soul Train to Sesame Street." When Thelma points to Michael making out with a girl, J.J. adds "Gonna have to start checking out Sesame Street some morning."
Connections
Maude
In the episode "The Case of the Broken Punch Bowl," Vivian flirts with a party guest by counting in a sexy voice and Carol says "It's like watching an x-rated Sesame Street!"
Connections
Sanford and Son
In the first season episode "TV or not TV," Fred Sanford watches a new TV set: "Never thought I'd live to see the day when I'd be watching Sesame Street in living color."
In the fourth season episode "Going Out of Business," Fred (holding a newspaper) says he's trying to read Wall Street. Lamont quips, "You mean Sesame Street."
Connections
One Day at a Time (2017)
In the season three episode "The Funeral," the family struggles to recall which aunt Ophelia was. It's asked if she is "the tia that always wears yellow" which they affectionately nicknamed "tia Big Bird."
Connections
Community content is available under
CC-BY-SA
unless otherwise noted.